A spiritual keepsake that will become a family heirloom.
New edition—updated and expanded!
The companion book to the author's
Putting God on the Guest List: How to Reclaim the Spiritual Meaning of Your Child's Bar or Bat Mitzvah
—100,000 copies in print!
The perfect gift to help a bar or bat mitzvah preserve the spiritual memories of this sacred event. This hands-on album—updated and expanded for this second edition—is designed to help everyone involved better participate in creating the spiritual meaning of this joyful rite of passage.
Created by Rabbi Jeffrey K. Salkin, author of the award-winning classic
Putting God on the Guest List: How to Reclaim the Spiritual Meaning of Your Child's Bar or Bat Mitzvah,
and his wife, author Nina Salkin, this guided album is a wonderfully interactive way to remember important moments and details. Included are special sections to record your family's history; the hopes, wishes, and memories of influential people in the bar/bat mitzvah's life; mitzvot performed; contributions to tzedakot and more.
With ample space for writing, reflecting and pasting mementos, this spiritual keepsake gives young people a place to treasure their special experiences and encourages them to prepare for spiritual life as Jewish adults.
Preview sample pages from
Bar/Bat Mitzvah Memory Book, 2nd Edition: An Album for Treasuring the Spiritual Celebration
by clicking on an image below.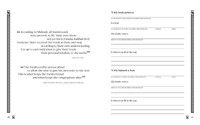 Praise for Putting God on the Guest List
"An invitation to all families to link the sacred act of 'going up' to the Torah
with the sacred process of 'growing up' in faithfulness to God and community."

–Rabbi Sandy Eisenberg Sasso (Reconstructionist), Congregation Beth-El Zedeck, Indianapolis, and author of But God Remembered: Stories of Women from Creation to the Promised Land and other books
"I hope every family planning a bar or bat mitzvah celebration reads Rabbi Salkin's book."

–
Rabbi Harold S. Kushner
(Conservative), author of

When Bad Things Happen to Good People
"Shows the way to restore spirituality and depth to every young Jew's most important rite of passage."

–
Rabbi Joseph Telushkin
(Orthodox), author of
Jewish Literacy
"Raises the questions that most need to be asked at every bar and bat mitzvah."

–
Rabbi Laura Geller
(Reform), Temple Emanuel of Beverly Hills, California
Nina Salkin
is a former advertising creative director whose writing addresses social, political, and religious topics. Her work has appeared in the
Forward, the New York Times,
and
Reform Judaism
magazine.
Rabbi Salkin and Nina Salkin live in Atlanta. They have two teenage sons.